I just LOVE our new Wishes Card Club!!
In August, we will be making this card using the Wishes Sunrise pattern. There are a couple of things we are going to tweek - again to show the complete versatility of this great book!!
The card calls for a pattern from the CD (included with each book), but instead of using the pattern itself, we are using the negative from the pattern to create a sunrise. Also, the original pattern calls for a 3" x 6" card, we are making a 3 1/2" x 8" card. I also plan to show how easily this will attach to a layout!
The car, camper, and sentiment are all on 3-D foam tape - not easy to see in the photo. My card was inspired by Wishes and Yvette West's cool card which you can see
here
.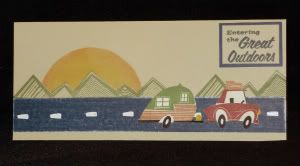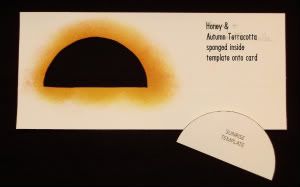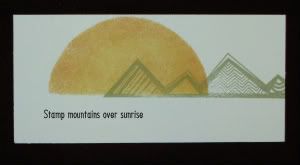 All supplies CMTH unless otherwise noted:
Stamps: Campin' Fever, Extreme Caps (for the dashes in the road)
Cardstock: Outdoor Denim, Bamboo, Colonial White
Ink: Honey, Autumn Terracotta, Olive, Black, Brown Bag, Barn Red, Versamark & white embossing powder for road lines
Other: 3-D foam tape, heat tool, sanding block