I LOVE our August stamp of the month - It's Your Day. Who doesn't need a fun birthday stamp for all of your birthday cards and layouts?
I created this card - pretty much copied (LOL!) - from Jeanette Lynton. Be sure and check out her fantastic blog
here
. This is another wonderful Wishes pattern called Right Design.
Click
here
to see how you can get this stamp set at a discount or FREE!
Click
here
to start shopping now!
Or contact me to see how easy it is for you to get great products FREE!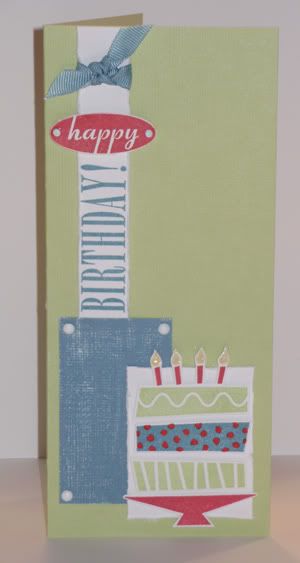 All supplies CTMH unless otherwise stated:
Stamps: It's Your Day
Cardstock: Sweet Leaf Textured, Twilight Textured, White Daisy
Ink: Hollyhock, Twilight, Sweet Leaf
Marker: Hollyhock (for dots on cake)
Other: Liquid Glass and prisma glitter (on flames), White Daisy brads, White Daisy bitty brads, 3-D foam tape, White Daisy grosgrain ribbon inked with twilight ink, edge distresser