For the Twitterpated workshop (see Twitterpated workshop post, same date) I chose pictures I took while we were at the West Virginia State Wildlife Center last October. It was a beatiful day and a beautiful park! After looking at the photos I took of the animals and surroundings, I was struck by 2 pictures of the paths ahead of me. I chose to write about my thoughts rather than the event......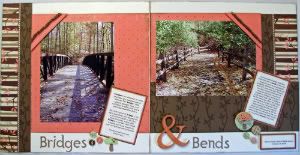 The journaling reads:
BRIDGES
"A bridge is something or someone that helps you navigate over an obstacle. The "bridge" offers support, strength, hope, and confidence to safely cross over a seemingly impossible chasm.
The most important bridge in my life is Jesus Christ, who allowed me to cross from death to life. But there have been many other bridges in my life - dear friends & family who have helped me over and through many obstacles.
"Some people shudder with fear when they see a bend in the road. I choose to see it as a wonderful possibility. Who knows where it will lead! CS Lewis once said: "We are too often content with slums & mud pies because we cannot imagine a holiday at the sea." I must admit that I like to settle in to the status quo. But I am trying to embrace change - to lift my eyes off of my "mud pies" and listen intently for the soothing sound of crashing waves, life my face to feel the warmth of the sun, and breathe deep the fresh sea air as I round the bend in my road."
I think I might try to incorporate more of my thoughts on life and not limit my scrapbooking to people and events. After all, scrapbooking is about creating a legacy - not just documenting pictures of those I love and events we have shared, but actually sharing a part of ME with my family and future family for years to come!