This month's Imagine Club layout is called Leading Lady. In this class I'm going to show how you can use our fabulous Flip-Flaps to add an interactive layer of photos or journaling to your layout.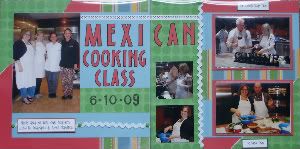 Here you can see I used the Flip-Flaps on the right hand side of the page. They are attached directly to the outside of the page protector so that you can easily lift the Flip-Flap to reveal more photos underneath! No more pulling out your pages to access those hidden layers!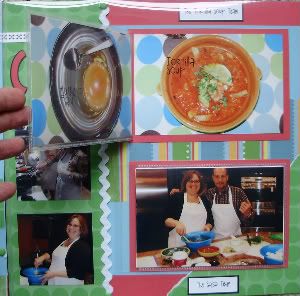 By the way, I took this cooking class with a good friend, Nicole (now a CTMH consultant too!). We had a lot of fun cooking and even more fun eating!

All materials used are CTMH unless otherwise noted:
Paper: Animal Cookies L2 paper pack, Tinkering L2 paper pack, Crystal Blue cardstock, Black cardstock
Stamps: Extreme Caps (date)
Other: White Daisy Ric Rac, Clover Meadow Bigger Brads, 3-D foam tape, Flip-Flaps, CTMH font CD, Cricut Opposites Attract (for title).