This month's workshop will feature our new Sweet Home papers. The soft blues and rich red and brown colors are perfect for black & white photos, heritage photos, or color photos!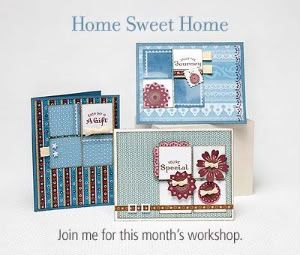 In this workshop there are FOUR projects to choose from - (two are shown above). You can complete 3 out of the 4 with your workshop kit. There are two different 2-page layouts, and two different card sets (6 cards in each set). Choose only the scrapbook pages, only the cards, or a combination of the two!

Your basic kit includes:
Enjoy the Journey Stamp Set - this is an EXCLUSIVE stamp only available in this kit - NOT available in the Idea Book!

Sweet Home Level 2 Paper Packet (12 sheets of our B&T Duos, double-sided pattern paper and 10 sheets of color coordinating cardstock)

Mini-Medley Accents White Daisy Collection (metal frames, flower brads, ribbon slides, and elegant crocheted flowers)

A Full-color Workshop Guide with step-by-step instructions

This kit is discounted at only $29.95!

To get the full benefit of this kit, I recommend adding some optional accessories:
Top Coats Framed-In overlays ($4.95)
Designer Ribbon Rounds Buttercup Collection ($7.95)

Join me on Friday, 9/25 from 6pm-9pm or Saturday, 9/26 from 2pm-5pm.
Can't attend those dates or leave little ones at home? Order a kit to make this at home!
RSVP by 9/11/09.