I heard about a scientific study done last year that showed how writing down once a day, one thing you are grateful for improves your overall satisfaction with life. That's what the SCIENTISTS said! I personally believe that when we have an "attitude of gratitude" it transforms our perspective - it's even in scripture!
So -- with that in mind, I wanted to create a workshop that will BLESS everyone who participates! Here is what I came up with.......it includes 1 journal and 4 cards/envs for $10. (As you list things you are grateful for, if it includes a person, you may just want to send them a "I'm thankful for you" card to brighten their day too!) It includes xyron adhesive for the inside and outside of the journal for a solid, permanent stick! Plus I'll provide snacks and a door prize!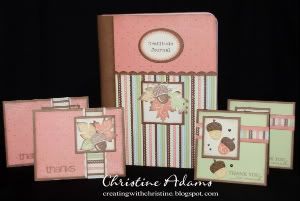 First let me say that I had LOTS of inspiration from fellow CTMH consultants!
I already had in mind I wanted to do a journal, and then I stumbled on
this journal
by Aaron Brown.
Here is my version. The sentiment uses our CTMH font CD (Deja Vu) and the Welcome Home stamp set (and coluzzle oval cutter) and is raised on 3-D foam tape.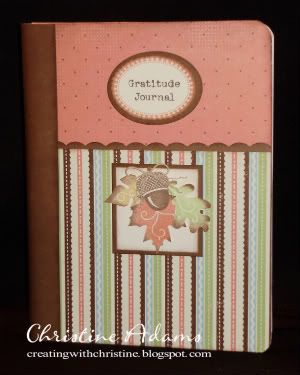 The leaf cluster was inspired by the fabulously artsy Tresa Black on her
layout here
I used 3-D foam tape under the acorn and tied a hemp ribbon on top with the leaf tips curled up! I LOVE this Many Thanks Stamp Set!!!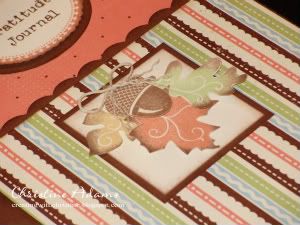 The first card was inspired by a card on Jeanette Lynton's blog
here
I put 3-D foam tape under the acorn tops and used the spot on backgrounds, thank you and many thanks stamp sets.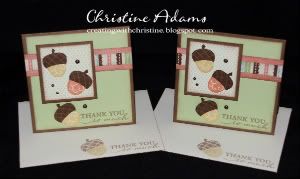 The second set of cards was also inspired by some wonderful consultant, but I don't remember who you are! Sorry! Thanks for the inspiration!! Again, I used 3-D foam tape under the acorn and tied a hemp bow on top, with the leaf tips curled up.
The workshop is Monday, October 19th at 6:30pm. Contact me if you are interested in this project!