I made these little treats for my team meeting last weekend and decided I had enough left-overs to make another batch to take to bible study tonight! I got the recipe from this month's Southern Living Magazine. (The ones on the cover look a whole lot better than mine!)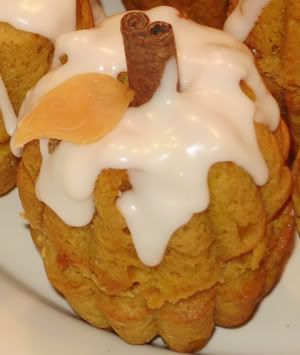 I used the smallest leaf on our Many Thanks stamp set, rolled out some carmel squares and stamped them on there. Then trimmed them off with a knife. The stems are cinnamon sticks. (You could also roll carmels into stems.) The icing is a basic vanilla glaze or if you are daring, you could use a Carmel-Rum Glaze!

Also, I substituted a baking pan that I had rather than purchasing the pumpkin muffin pan that it calls for. I used a pamered chef silicone mini cake pan with different floral designs, not really pumpkins, but it worked okay.

Here is the recipe:

3/4 cup butter, softened
1 (8 oz.) package cream cheese, softened
2 cups sugar
2 large eggs
1 1/2 cups canned pumpkin
1/2 tsp. vanilla extract
3 cups all-purpose flour
1 tsp. pumpkin pie spice
1/2 tsp. baking powder
1/2 tsp. baking soda
1/2 tsp. salt

1) Preheat oven to 350 degrees. Beat butter and cream cheese at medium speed with an elecgtric mixer until creamy. Gradually add sugar, beating until light and fluffy. Add eggs, 1 at a time, beating just until blended after each addition. Stir in pumpkin and vanilla.

2) Combine flour and next 4 ingredients; gradually add to butter mixture, beating at low speed just until blended. Spoon batter into 2 lightly greased pumpkin-shaped muffin pans, filling 3/4 full.
3) Bake at 350 degrees for 24-26 minutes or until a wooden pick inserted in center comes out clean. Cool in pans on wire reacks 5 minutes. Remove from pans to wire racks and cool completely (about 30 minutes).
4) Cut rounded tops off muffins to make them flat. Invert top muffins onto bottom muffins, forming pumpkins. Drizzle glaze over pumpkins. Decorate with stems, leaves, and vines if desired. Makes 8 pumpkins.
Vanilla Glaze
2 cups powdered sugar, sifted
1 tsp. vanilla extract
3 to 4 Tbsp. milk