Okay, I just had to share this with you. It may not mean much to you, but it meant the world to me!
The past few months have been really hard relationally, emotionally, and financially. This month was also a surprise Clearance Sale offered by Close To My Heart! Well, a few weeks ago, as I was looking at my sales for the month, I realized that on the very first day of the clearance sale, I had met my monthly sales goal already! Staring at the computer screen in amazement and pondering this blessing, my husband walked into the room and told me to look out the back window at the rainbow.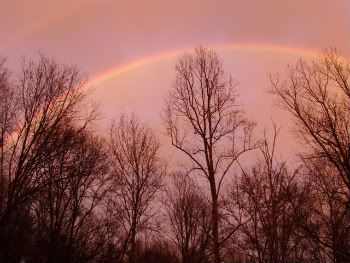 It was at that moment that my heart welled up with gratitude and awe! I saw the rainbow as a personal sign to ME - a reminder of a promise - of many promises:
I will never leave you, nor forsake you
I have plans for you, to prosper you not to harm you
Trust in the Lord with all your heart
Don't worry.....
At the very same time, there was also a storm brewing. I walked out to the front of the house and this is what I saw - the sun setting, the wind blowing, dark clouds rolling in. Kind of an erie feeling.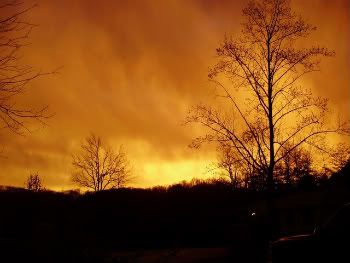 But when I looked the other way, behind the house, I could see the rainbow, the promise. Once again I was reminded that perspective is everything. Even in the midst of the storm, the promise remains. Even if the clouds hide the rainbow or hinder my view of the sun, it's still there.
Thank you, Lord, for Your faithful blessing of provision and the ADDED blessing of the rainbow.
Oh - and just a few days later, this is the view I saw from the back window. What does this view bring to mind - bitter cold misery or a frosted winter wonderland? It's all a matter of perspective!