My club members are so very dear to my heart. In fact, they are the heart of my business and I love each and every one of them! So this month I have a little gift for them - Snowman Kisses!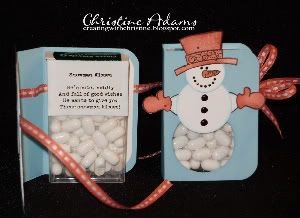 Inside each snowman is a big-pack Tic Tac that reads:


Snowman Kisses
He's cute, cuddly,
and full of good wishes.
He wants to give you
these snowman kisses!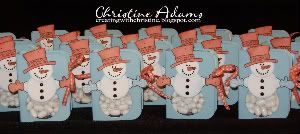 All supplies CTMH except as noted:
Cardstock: Crystal Blue and White Daisy
Inks: Black, Sorbet, Crystal Blue, Sorbet marker
Other: Liquid Glass, Sorbet Ribbon Round Collection, Tic Tacs (Big Pack)