I am SO TOTALLY BLESSED by my Danville Club! These girls bless me every month with their friendship, great food, and excitement for scrapbooking, learning new techniques, playing with new products, and the joy of sharing memories with each other! They laugh together, cry together, and have invited me into this warm circle of friends. In addition to ALL THAT, this month they overwhelmed me with a Christmas Gift!
Last month, I NOW remember them asking me, "what's your favorite restaurant?", "do you go to the movies often with your husband?", and being the true blonde that I am, I just answered without thinking anything of it! THIS month, I get a gift that includes a gift certificate to my FAVORITE restaurant Panera Bread and movie tickets to a local theatre all nestled in a basket of everyone's favorite - Bath & Body Warm Vanilla Sugar soap, lotion, spray and candle!!!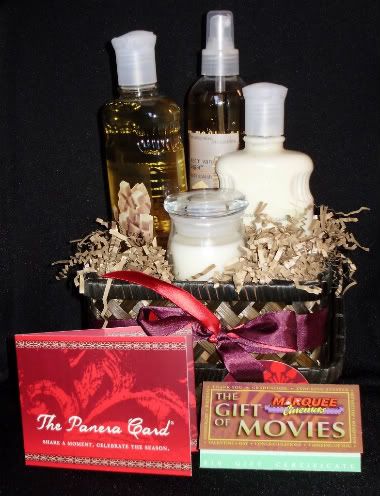 Thank you, my Dear Danville Croppin' Friends!
You have Totally Blessed Me once again!