I just love our new Spring paper packs!! Each one has its own unique personality! One of them is Topstitch which features Baby Pink, Chocolate, Heavenly Blue, and Vinyard Berry colors! The combination of these colors are PERFECT for girlie projects, the pinks and blues are great for baby projects, the blues and browns will also make great "guy" projects, and the soft blues will also work well with SNOW pictures and projects!
This paper pack and the coordinating stamp sets also features stitching, along with cool circles, distressed elements, and flowers.
This paper is also perfect for Valentine projects! Here is a simple little card using left over scraps!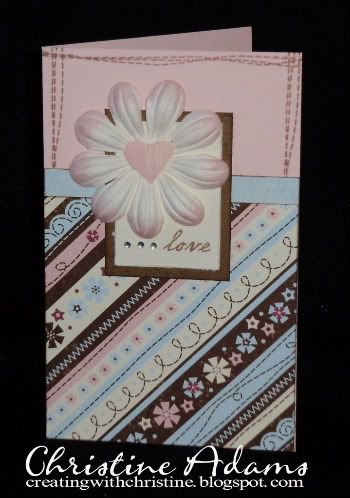 I also used our new stamp set Togetherness for the faux stitching, heart, and "love". This card also features one of our Just Blooms paper flowers and our new Bitty Sparkles. Each guest will be making this card FREE at a gathering at my house this weekend. The pattern is from our Originals How-To Card book called Center Accent. If you have the Originals book, you can follow this pattern and create your own as shown or with ANY combination of paper scraps and embellishments! The possibilities are endless!