My sweet mom brought over dinner tonight! I just had to share this recipe with you! It was SO good and looks very easy to make too! (Always a nice combination.) Perfect comfort food!! I didn't think to take a nice picture of the whole dinner with salad and bread too. The picture was an after-thought -it doesn't do it justice at all!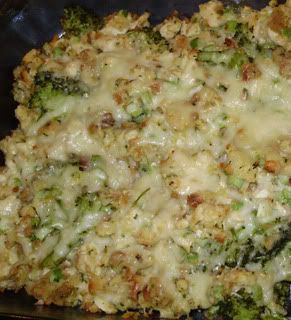 Chicken Stuffing Bake
1 can (10 3/4 oz.) condensed cream of mushroom soup, undiluted
1 cup milk
1 package (6 oz.) stuffing mix
2 cups cubed cooked chicken
2 cups fresh broccoli florets, cooked
2 celery ribs, finely chopped
1 1/2 cups (6 oz) shredded Swiss Cheese, divided
In a large bowl, combine soup and milk until blended. Add the stuffing mix with contents of seasoning packet, chicken, broccoli, celery and 1 cup cheese. Transfer to greased 13x9x2 baking dish. Bake, uncovered, at 375 degrees for 20 minutes or until heated through. Sprinkle with remaining cheese; bake 5 minutes longer or until cheese is melted.
Yield: 8 servings.