At our Imagine Club this month, I showed how you can make your own glimmer mist in your favorite CTMH coordinating color! (Honestly, that is what hooked me on CTMH products from the start! All of our papers have color coordinating or matching inks and ebellishments! Not to mention the theme coordinating stamps, stickease, and embellishments! I just LOVE CTMH!)
Back to the glimmer mist...... simply mix 50/50 rubbing alcohol and our Create-a-shade Pearl Paint in a small spritzer. (I used our spritzer for cleaning stamps. Simply empty, wash out and let dry ahead of time.) Then add as much re-inker of your choice until the desired color is reached. You can see I used Crystal Blue to coordinate with our new Caboodle papers.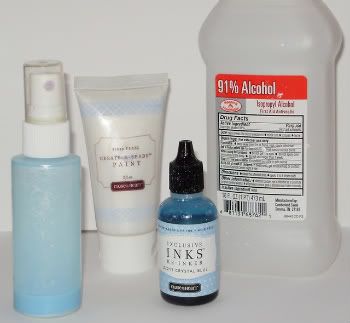 You can also use water in place of the alcohol. The advantage of the alcohol is that it evaporates quickly. The water based solution will take longer to dry.
Simply place your paper, flowers, dimensional element (whatever you want to glimmer) in a box to keep the spray from getting on something it shouldn't -(you can see my re-inker got glimmer misted - LOL!) Let dry and then you can embellish it, ink the edges, stamp on it, etc. (When stamping on the glimmer mist, you want to clean your stamp each time.)
Our club layout was Imagine-Monologue - one of my favorites! You can see I flipped the L/R pages and rotated each page. I glimmer misted the DE "BOYZ" and the circle frame on the opposite page. Since this was a boy page, I tried to keep the glam to a minimum. You could certainly add glitter, sparkles, really bling it up! Instead I chose to add a few of our Twinkle brads. Although the colors in Caboodle are Crystal Blue and Sweet Leaf, I was able to use the Twilight and Olive Twinkle brads with coordinating success!!