I found a CTMH package on my front porch this afternoon. I wasn't expecting a box today......what could it be? My heart began to beat wildly as I hoped it might be the Western Caribbean Cruise Create and Take project. I ripped the box open to discover IT IS!!!!!!!!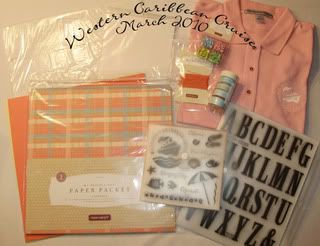 I got a beautiful polo shirt (it's kind of between baby pink and blush)! Also, a Cocoa Linen Album! Plus all materials to make 6 layouts with step by step instructions!! Here's what was included:
An exclusive Western Caribbean stamp set
Building Block Alphabet stamp set
Caboodle L2 paper pack
Additional Buttercup, Crystal Blue, Sorbet, and Vanilla Cream Cardstock
Irresistibles Lots of Dots
DE Borders
Brads Spring Harmony Assortment
Designer Ribbon Rounds - Heavenly Blue
Sorbet Waxy Flax
Cutting & Assembly Guide
I'm SO EXCITED!!!!!
Now, off to plan my wardrobe to coordinate with the layouts! LOL!