I LOVE, LOVE, LOVE my club members. I try to create little seasonal gifts for them - just to share the love! This month I made these cute little flower pops - fashioned after
Jeanette Lynton's blog post last year!
These would make very cute and easy gifts for girls at the office, friends, neighbors, or for kids & teachers at school! Make the inside a card with a love note or gift certificate, etc.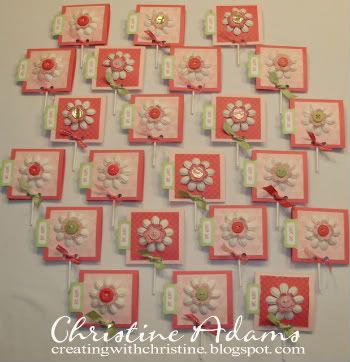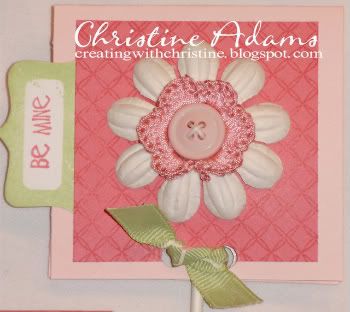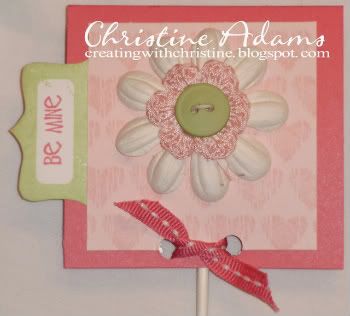 I found these on sale at Walgreens!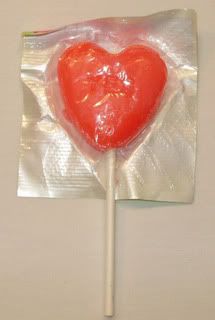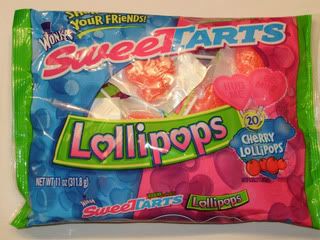 All supplies CTMH:
Cardstock: Hollyhock, Baby Pink, White Daisy
Ink: Hollyhock, Baby Pink, Sweet Leaf
Other: Autumn Buttons (hollyhock), Spring Buttons (baby pink), Winter Buttons (sweet leaf), Hollyhock, Sweet Leaf, Baby Pink ribbon rounds, White Daisy Mini-Medley (crocheted flowers - dyed with baby pink and hollyhock reinkers), Colonial White and Blush Waxy Flax
Stamps: Intrinsic Backgrounds, Togetherness, Confidential, All My Love, Made With Love (stamped on the back)