This month's workshop features our new My Creations Journal - with a 5x7 clear pocket on the front to display and protect your artwork and 75 unlined pages inside. I've used our new Caboodle papers and our new A Tweet stamp set to decorate the front. I've also used our new coordinating Tiny Tabs to mark different sections in the journal. Each section features a different scripture/topic for prayer and journaling.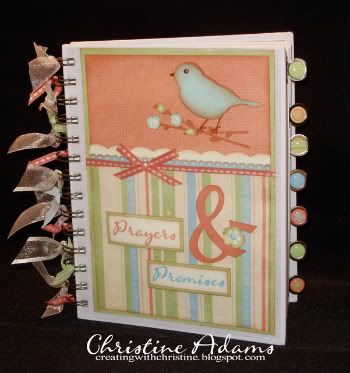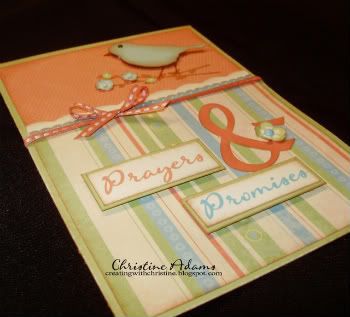 Inside front cover:


Inside back cover: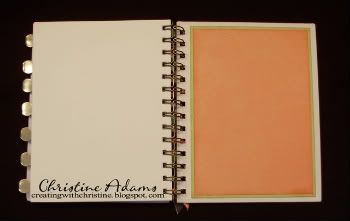 Sample scripture section: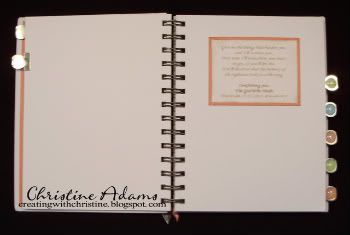 All of the scripture sections came from a devotional book that I have since given away - so I can't give credit to the author! There are seven different sections. Here are just a couple samples:
You're unforgettable to Me, I've engraved you on the very palms of My hands. I'll never leave you or abandon you. You can always count on my unconditional love and goodness.
Eternal hugs, Your Heavenly Father
from Isaiah 49:16; Deut. 31:6, Psalm 23:6
I've been with you from the beginning, forming you in your mother's womb. No matter where you go or what circumstances you face, you can trust Me to guide you. My right hand will support you. I'll provide for all of your needs according to my unlimited riches in glory.
Supporting you, Your Ever-present God
from Psalm 139:9-13; Phil. 4:19
This workshop is Friday, March 26th at 6pm.
It includes:
1) a My Creations Journal
2) a complete set of Tiny Tabs
3) pre-cut ribbon, paper and brads to complete the project
4) pre-printed, cut & matted scripture sections
The cost is $20 per journal.
As a bonus, add on the A Tweet stamp set for only $5 more, (a $7.95 retail value), to create more journals, cards or layouts at home! These would make wonderful, heartfelt and thoughtful gifts! (Click here to see the stamp set.)