Join the National Scrapbooking Month celebration in May with this special Miracle kit offer. It's a beautiful spring-themed scrapbooking kit that includes new, coordinating B&T Duos® die-cut papers, B&T Duos, Irresistibles™ chipboard die-cuts, My Stickease® adhesive images, Flip Flaps™, plus more favorite accessories and papers. We're also including an instruction brochure for easily creating two beautiful two-page layouts-with no stamping required! Get your very own Miracle scrapbooking kit FREE or at a discount! Here are the details:

From April 15 (at 9 am MT) - May 31:
*Purchase the kit outright for $19.95
*Place a minimum order of $40 (excluding Studio J™ orders) and purchase the kit for only $10
*Place a minimum order of $60 (excluding Studio J orders) and purchase the kit for only $5!

*Host a Home Gathering with minimum sales of $300 and receive a kit FREE!

**From May 1-31, sign up as a new Consultant and receive a kit FREE!

Click here to see the layouts and get more information.
Click here to order yours today!
BONUS - check out these alternative projects you can make with this kit instead of the traditional layouts! Interested? I can provide cutting guides and instructions for you!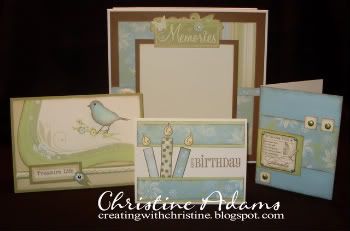 9x9 accordian album (inspired by
Vicki Wizniuk
- check out her 6x6 accordian album
here
)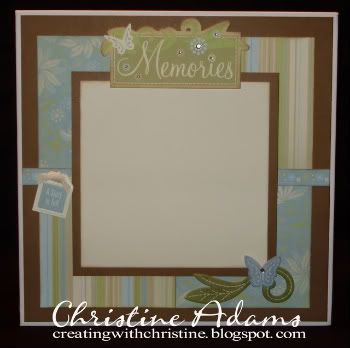 5x7 A Tweet card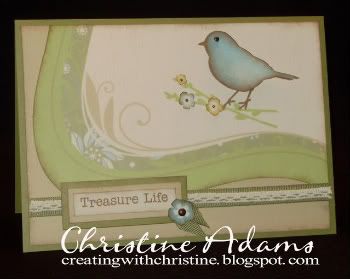 Candlelight card (also designed by Vicki)
This card features the May stamp of the month: Cherish the Moment! Notice how well the Twinkle brads coordinate with this kit!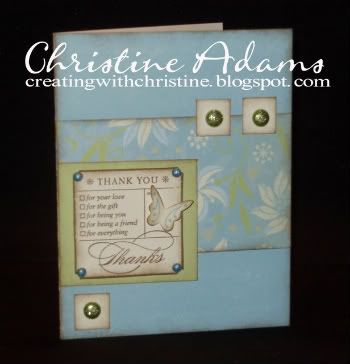 Do you want a miracle kit to use at the All Day Crop? Simply place your order online or contact me with your order no later than Sunday, April 18th.

Let me show you how to celebrate the relationships in your life through the art of scrapbooking and stamping!