Yesterday we had our quarterly Close To My Heart team meeting. It's one of the highlights of my life! I LOVE my incredible team!! And look forward to spending a week together in Washington, DC for our upcoming convention in July!! Woo Hoo!!
For lunch, I wanted to serve something simple, since we had plenty of other activities to indulge in! I knew I wanted to do a salad with strawberries and poppy seed dressing. I found this recipe on cooks.com - very simple, and very good.
Start off with 3 simple ingredients:
1 head Romaine lettuce
1 pt. fresh strawberries
1 sm. Bermuda onion in rings
Poppy Seed Dressing:
1/2 c. mayonnaise
2 Tbsp. vinegar (I used white wine vinegar)
1/3 c. sugar
1/4 c. whole milk
2 Tbsp. poppy seeds
Place all dressing ingredients in a jar; cover and shake until blended. Keeps in fridge for several days.
Put salad ingredients in a bowl, drizzle with dressing (as much as you desire), and toss. And I always season with a little sea salt and cracked pepper.
Since this was our main course, I added some diced rotisserie chicken and since I'm a Carb Queen, I served with breadsticks! And thanks to Kim K., we were able to reward ourselves afterward with a Cholocalte Brownie Trifle! Life is good!! :o)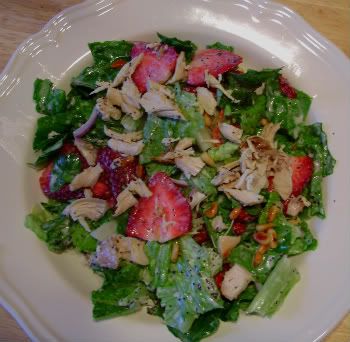 I made it again today - since I didn't take a picture yesterday - and added some toasted pine nuts. I can't tell you how many times I've burned my nuts in the oven. It seems like nothing is happening then all of a sudden they BURN! So now I toast them on the stove in a pan. Simply shake, toss, or stir until brown. It only takes about 5-10 minutes (depending on the heat) but watch closely so you don't burn them. I would toast your nuts first, set them aside and let them cool while you make the rest of your salad. (That sounds like something you say to someone when you're mad at them - "Oh, go toast your nuts!") Sorry - guess I have a warped mind! Anyway, toasting/roasting your nuts just totally enhances and even transforms the flavor! It's worth the extra effort!