Okay, let me wait while you pull out your violin --- are you ready? Here goes....I was sick for THREE WHOLE STINKIN' WEEKS --- this is the part where you play your violin while I whine! But guess what I did while I was sick???? I scrapbooked! IN BED!! Yup, you read it right, using our fantastic Studio J software of course!! I created several layouts from the Close To My Heart Leadership conference I attended last July! We even spent one day at Universal Studios, and one day touring the Long Beach Marina! Oh my goodness!!! This software is SO EASY to use! I've had so much fun. I can't wait to complete my 10 and get them ordered! 10 is the magic number, you know. With a purchase of 10 layouts you get FREE page protectors AND FREE shipping! Want to see what I've made so far?
Here is a layout of Lisa, Pam and I and a view from our hotel room. I used our Emporium papers and stickease:
Here is one of my favorites - the Revenge of the Mummy ride - using our Moon Doggie papers. I love how easy it was to just drag my digital photos to the layout and automatically resized it to fit! Of couse I still have options to move, enlarge, and crop the image with just a click of the mouse! And I was able to remove 2 of the photo wells and add stickease instead! So easy!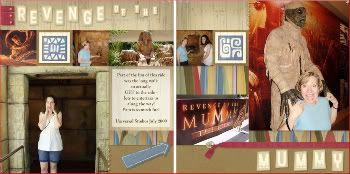 Here is one from the Simpson's Ride at Universal. I used our Animal Cookies paper and stickease! I even added some White cross ink distressing on the Dutch Blue cardstock. So simple!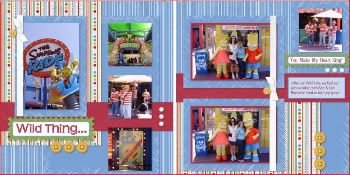 My friend Pam volunteered at the special effects show and was chosen to demonstrate how the GREEN SCREEN works. She fought a giant cat and ate with the Clumps! It was hillarious!! For this layout I used one of our exclusive Studio J papers & stickease called "Boo".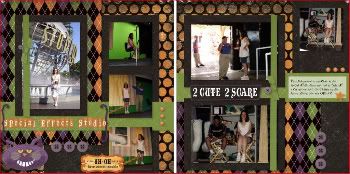 Here is a layout of our Back Lot Tour using the Moon Doggie papers again. Lots of photos on this one - TEN - and I didn't have to print and trim one of them! Not a one!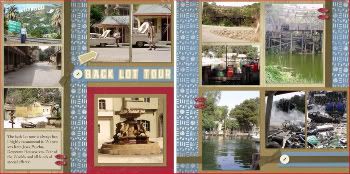 For our Long Beach Marina day I chose another exclusive Studio J paper & stickease called "Splash Zone".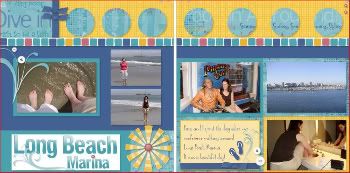 We even had the chance to tour the Queen Mary and have lunch aboard. For this layout I used our Majestic paper & stickease. I just love how EASY it is to ink distress and sandpaper distress with just the click of the mouse - plus I can adjust the intensity of the distressing from 0% to 100%!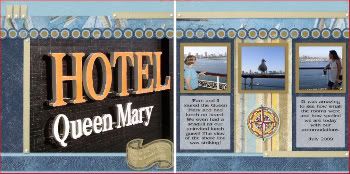 There you have it!! I can't wait to get back on and play some more with this fantastic program! Have you checked it out yet? What are you waiting for? Click
here
to start playing without charge or obligation! And don't forget to ask me how you can get a FREE Studio J layout and album this month!