Okay - I know what you're thinking...."when is she going to put down that stamp set and try something NEW!" I just love this
Live Inspired
stamp set. So many possibilities!
I have a friend who is serving in Afghanistan and wanted to send him a little care package and a card. I didn't have anything just lying around that would work. I stumbled on
this card
and
tutorial
from a fellow CTMH consultant, Annette Green. SHE is awesome! I used our new Passages paper pack, clear detail embossing powder, and our cocoa embossing powder (for the sentiment). The rest you can see in Annette's tutorial.
The first one I tried to make just like hers. I don't have the nestabilities, so had to improvise: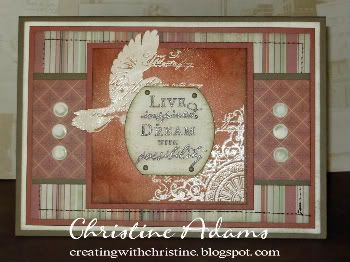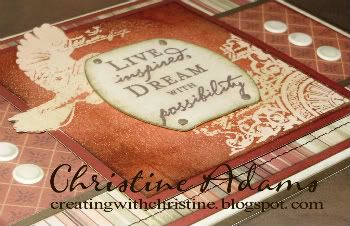 The second one, I didn't have enough striped paper left so I had to modify it a little:
This second one I am sending to my son who is currently in an out-of-state drug rehab facility. Pardon my blatant transparency, I'd much rather say this is for my honor roll student or he just won the golf championship, but that's just not the case. And it seems everyone I talk to is dealing with some kind of tragedy or hardship lately. My clubs and workshops seem to be not only a girl's night out, but often times "therapy"! We need each other - to care for each other - pray for each other - stand beside each other - to laugh and cry with each other - to love each other. I'm forever grateful for those who have been keeping my son in their prayers - God is good and He is able to do abundantly and immeasurably beyond what we ask or can even imagine! I'll keep praying for miracles - after all, He is in the miracle business, right?