This month we are using the Splendor WOTG kits in my clubs. These kits are an amazing DEAL! There are 4 projects pre-designed with cutting guides and step by step instructions with each kit - 4 scrapbook pages and 12 cards! Our kits include a complete L2 paper pack (22 sheets of coordinating paper), an exclusive coordinating stamp set, a coordinating accessory, and a step by step guide - and all of our kits are discounted at only $29.95! That's a SUPER deal!! What? You're not in a club? Well you SHOULD be! Contact me for more information. I have a new club forming now....
For this month's layout, I chose outdoor pictures (perfect with the colors and patterns of this paper) of my back porch. I always love the quiet of the morning - when everyone else is either asleep or gone....absolute peace! And there is no better place to be in the cool of the morning than my back patio! It is screened in by one of the "barely there" screens which makes you feel like you are right in the midst of nature! Looking out at the forest behind us, listening to the morning symphony of birds, watching squirels, deer, even insects and other creatures roam about is quite entertaining. But it's also a perfect place for me to meet with the Creator of all things and try to set my heart and mind on the right track for the day. So I decided to preserve this memory - My Backyard Sanctuary!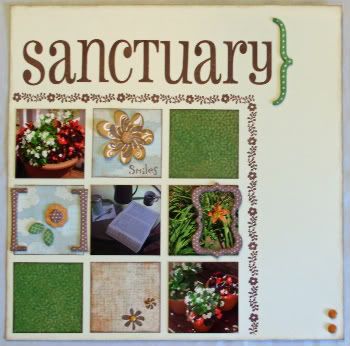 I encourage you to preserve YOUR special places, routines, traditions, etc. - not only people and events. Happy Scrappin'!