I am so humbled and excited that Lori from
"Organized Chaos"
chose me to receive the "Cherry On Top" blog award! Thanks Lori!
The rules for receiving this award:
1. Thank the person that passed it to you
2. Copy award to your blog
3. List three things you love about yourself
4. Post a picture that you love to your blog
5. Pass the award onto 5 others
Three things I love about myself, (boy this is not very easy!):
1. My faith remains...even in the midst of very hard times, by God's grace, He continues to show Himself faithful and true.
2. My friendships...I have the most wonderful friends in the world - they must see something good in me - not sure what I've done to deserve them!
3. My CTMH business...I'm thrilled to be a CTMH consultant! It has given me wonderful opportunities to meet very special people who have become friends, customers, and team mates! It has also given me opportunities for increased income and all expense paid exotic vacations! And it gives me a creative outlet to celebrate the relationships in my life with scrapbooking and stamping, cards, and gifts! I love it!!
Here is one my all time favorite photos...it's my great grandmother as a young girl.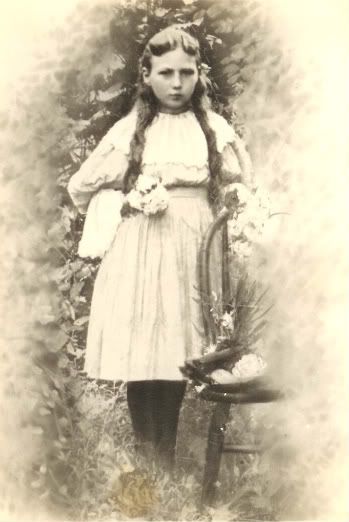 Okay, time to pass this award on. This is ALSO difficult to pick only a few....I'll try to pick those I haven't awarded in the past.....here are my five:
1. Annette at
Annette's Creative Journey
: I love her style and tutorials - especially
this
one!
2. Denise at
Inspired by Heart
: She is the most talented, perky person you will ever meet! Like the energizer bunny, she just keeps on going with a smile on her face! (Maybe it's coffee!!)
3. Karen at
Karen Pedersen
: Karen is one of the most inspiring artists I know! She is so consistent at posting beautiful projects - one after another! I don't know how she does it! I always enjoy reading about her family and wonderful recipes also!
4. Jeanette at
Jeanette Lynton.com
: Not sure she will officially "accept" the award, but I just have to direct you to her site if you haven't bookmarked it already! Founder and President of Close To My Heart, she has strikingly beautiful artwork posted, new color cominations, and fabulous recipes!!
5. Lisa at
Lisa's Creative Corner
: Lisa is a longtime friend and my Close To My Heart upline! Aside from that, she is one of the most talented people I know!!! I love her artistic eye for simple, classic elegance!