Okay - have you ever found yourself in a situation where you wanted to give a gift, but didn't have the resources to buy anything at all? Well that's the situation I'm in now....so let's put on our rose-colored, creative glasses and take a walk through the house to see what we can find!
So one of my club members just became a grandma - again! I always love to celebrate births and blessings in our club - any reason to celebrate, right? What do I have around here that I can make 10 little gifts out of??? I'm thinking pink, since it's a little girl. What about some little goodie bags.....I found some conversation hearts left over from Valentine's Day. Maybe I could use the pink and white ones! I dumped them all out on the table - no white and only about 5 pink in each box. Hmmm. The other colors are pretty bright....maybe I could toss in the purple ones and do pink & purple - those are girl colors.
So going with the pink and purple I put together these little cards - using a Wishes pattern - Window Wishes (4 1/2" square). I chose baby pink and amethyst to match the candies. I died the paper flower with baby pink reinker. Then used a little flower-pot baby from the stamp set Flower Child. (LOVE those little pots!) I used spring markers and spring chalks to color it in. Then tied a bit of blush waxy flax around the pot and added an amythist button from our Spring Craft Button collection. And of course lots of 3-D foam tape for dimension!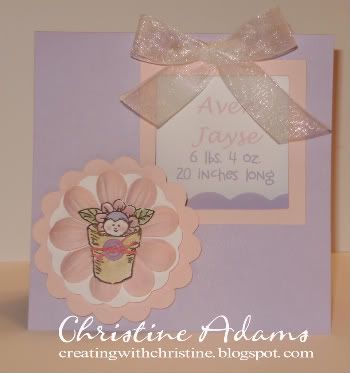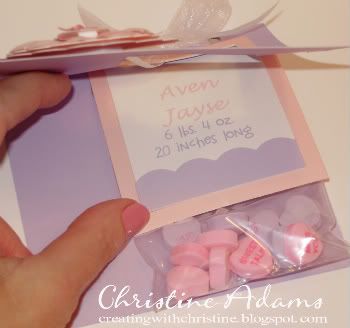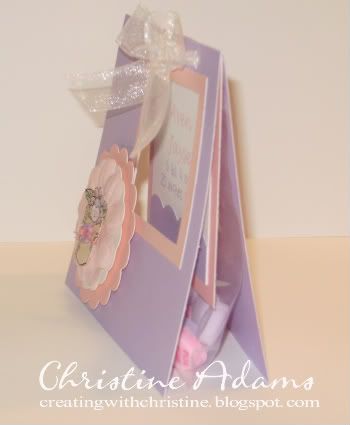 Then I found 10 white votive candles (fresh linen scent - mmmmm) and stamped "it's a girl" on white tissue paper, cut out and melted it onto the candle using wax paper and my craft heater. I added a tiny paper flower with a brad and voila! I have 10 little gifts to bring to club tomorrow night! Whew!!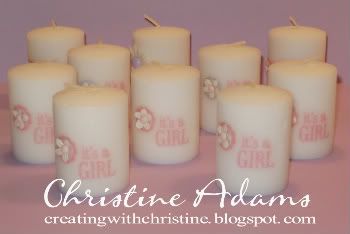 Let this be a lesson to us all - don't dispair, don't be discouraged, just put on those rose-colored, creative glasses and start digging in pantrys and closets until you discover something once discarded that you can transform into treasure!