A lot happens in the month of August. It's the time for last chance getaways before the school routine begins, pre-season football games are in full swing, teachers are preparing their classrooms, parents are shopping for school supplies & clothes, and most kids actually start back to school this month! So for my crop this month, I decided to celebrate August with our In the Month of August stamp set. I was inspired by
Jeanette Lynton's blog post
. I especially loved the little composition notebook on her card! But, alas, I didn't have THAT stamp set, called Good Work. So I found an Originals card pattern - Little Squares - and created a card using only the In the Month of August stamp set.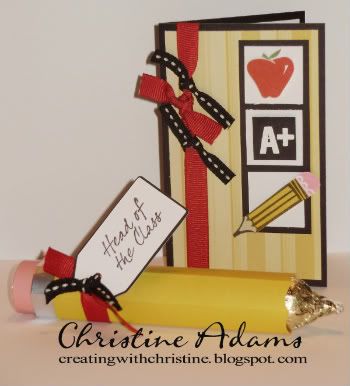 I used white embossing powder on black cardstock for the A+ to simulate a chalkboard!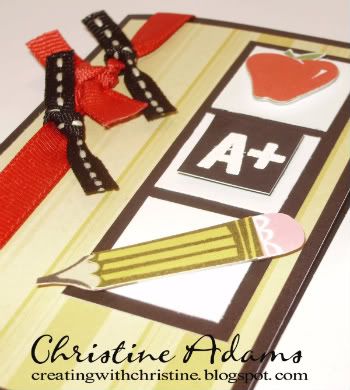 I also included a CUTE coordinating pencil made from rolos and a kiss! This project was featured in Creating Keepsakes, but I found it thanks to fellow CTMH consultant, Pamela Korn-Eigenheer. (Thanks Pam!)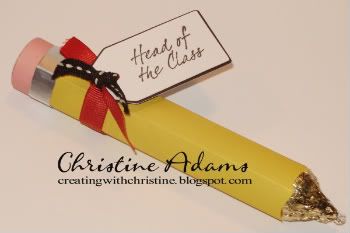 This is so easy to make! Take a 3 1/2" x 4 1/2" piece of honey cardstock and score it every 1/2" lengthwise. Use decorate scissors to create a deckled edge - or if you're like me and finally gave away all of those decorative scissors, you can create your own edge freehand. Then you wrap it around a tube of Rolos. Add a blush circle at the top, and wrap a 3/8" x 3 1/2" piece of blush cardstock around the top for the eraser. Then add a 3/8" x 3 1/2" piece of alum foil around to hide the seam. Add a Hershey's Kiss to the bottom (the side with the deckled edge) and embellish as you wish! So simple and So cute!!
The Originals card pattern (Little Squares) is a cute little 4 3/4" x 3" card and calls for a window to be cut out in the center square. I decided not to create a window in the little card. Then I modified the pattern for 7" x 5" card, below, and included the cut out window.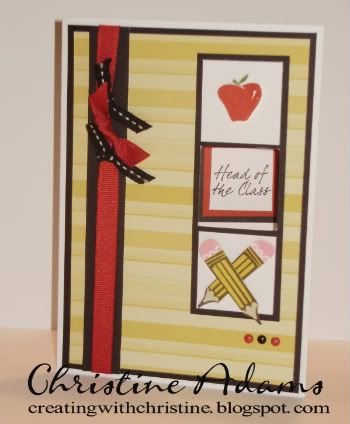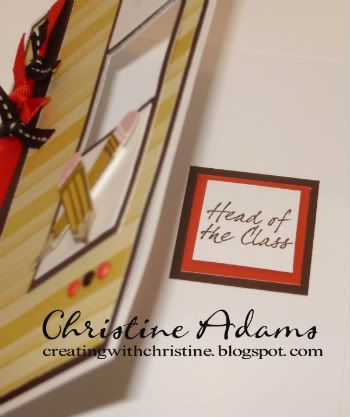 I had been using the back side of one of the Zippidee B&T papers, but decided to make one using the colorful side. This is also a 7" x 5" card, modified for a slightly older child.
Everyone at my all day crop on Saturday will receive the little card and pencil to pass on to their favorite student or teacher - assuming the chocolates last that long!