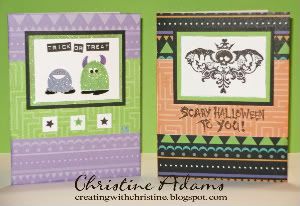 This is the card we are making at Debbie's Open House this Saturday in Van, WV. Her friends wanted to do a halloween card, so I chose the Hooligans paper, along with the Hooligans WOTG stamp set - Troublemaker, and our stamp of the month - Thriller. Using an Originals card pattern called Overview, we can make very different options of the same card using the same materials!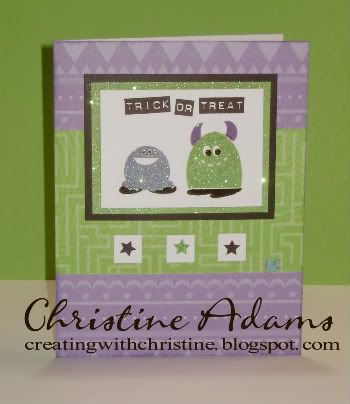 On the first card I used the back of the stripe B&T paper which is a lighter version of our new Gypsy color. I also used fun little monsters for younger kids - or I will even show how easily we can change this into a "Celebrate" or "Happy Birthday" card. Using our bonding memories glue, we can add glitter to the monsters, stars and mat if desired. I also added a little liquid glass to the feet and horns and eyes for shine and dimension. (I was trying to keep it simple, but I think I'll add some inking around the edges of the paper for more dimension.)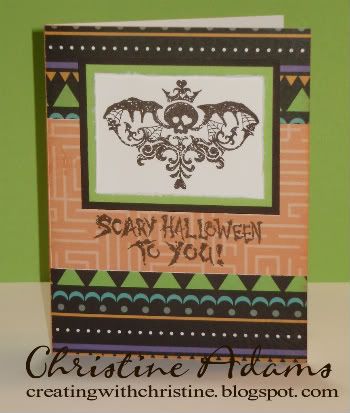 This card uses the backside of the pac-man looking paper to reveal a lighter shade of our new Sunset color. This would be for an older child. I also edge distressed the white cardstock to rough it up a little.

There you have it - two very simple cards, using the same papers and the same pattern with very different results!