Happy Belated Thanksgiving everyone! Hope you had a wonderful day filled with good food and family fun! We have traveled to Nebraska to spend the holiday with my mother-in-law. I had to run into town to run some errands and thought I would stop into McD's for a fruit smoothie and quickly update my blog, check my mail, etc. (No internet or cell service out in the country!) I know -- I told myself it might do me some good to go "unplugged" for the week -- BUT I JUST CAN'T! I'll go unplugged "most" of the time. Does that count? ;o)
Anyway, I had meant to post this a WEEK ago and ran out of time. A very precious commodity that I seem to lack enough of! Anyway, I wanted to share these simple little gifts that I made for each of my croppers at my last all day crop.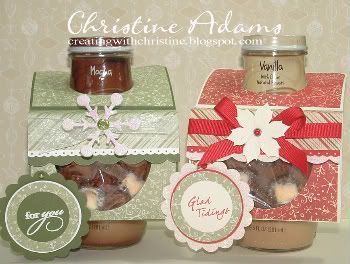 You can use any sort of drink you want - I chose one of MY favs - Starbucks frappacinos's! For one of my younger croppers, I used a YooHoo chocolate milk drink. Then slide a cookie of your choice in the little slot - instant yummy gratification! :o)
These can be embellished a million different ways! For the green one, I added prisma glitter to one of our dimensional elements snowflakes. For the red one I added prisma glitter to the scallopped flap and the scallopped edge on the tag! (Everything is better with a little sparkle!)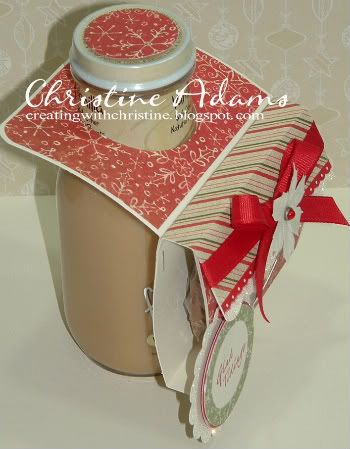 These would be quick and EASY gifts to make for friends, neighbors, teachers, Sunday School teachers, and co-workers! Just about anyone!
It's so simple and could be modified for any occassion!
Start with an 11" x 4" piece of cardstock scored at 3", 6", 6 1/2", 9 1/2", 10".
Cut a circle out of the first 3" section large enough to slide over your bottle (~2").
Then cut 1/2 an oval shape out of the cookie section to showcase your culinary creation! Embellish as desired!
I will be having a workshop in December with easy cookie gift ideas, including this one.
Hope you can join me!
Until then, enjoy your holiday!