Have you seen our new Christmas Ornament Dimensional Elements in the Autumn/Winter Idea Book? I just LOVE our DE products - they are substantial chipboard elements in various shapes, but they come in clean white - which means you can ink them, stamp on them, add paint or glitter, OR cover them with paper! (Most other brands come in a cardboard color which doesn't leave you with as many options!)
Anyway - these are SO easy to personalize with photos, or "to: & from:" stamps as gift tags, or to match any tree theme or color theme! Here is one version featuring our traditional Mistletoe papers and photos: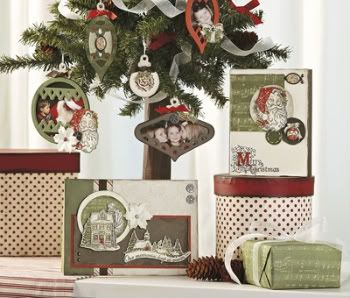 Isn't it adorable? Wouldn't your kids LOVE to see pictures of themselves or pets or family members on the tree? Or how about a mini tree in their own room? They could even participate in making these OR you could surprise them by slipping it into their room while they are sleeping on Christmas Eve! Wouldn't that be fun?
Here is another version, using the very same ornaments, but only using ink, prisma glitter, silver embossing powder and a few pearls. In this version is would be SO easy to match any tree theme with our 60 exclusive colors(Disney, Dr. Suess, primary colors, room colors, etc.) Plus you could add pictures to these as well! These would also be super easy to coordinate with your gift wrap as decorations on the package OR put the person's picture in the ornament OR a stamped "To: & From:" inside or on the back. Can't you see how the variations are just endless?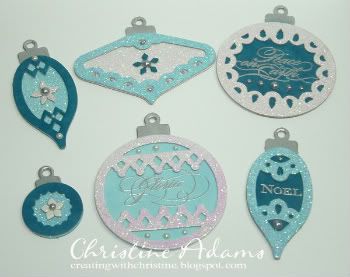 Everyone at my December All Day Crop will receive a set of these to decorate as desired!
I'm also holding a workshop that day to make these. Want to come? Bring your desired color swatch or gift wrap to match! Can't make it? Order a set of these beauties to do at home! Already decorated for this year? Order a set now for next year!
Contact me for more info!