I know I need to put down the butterfly and pick up another stamp - ANY stamp - even another image from this same stamp set! I promise I will, but I just wanted to get this posted before I move on. I've also incorporated a cool flower technique called the fan-fold flower. You can see a tutorial on how to make these
here
.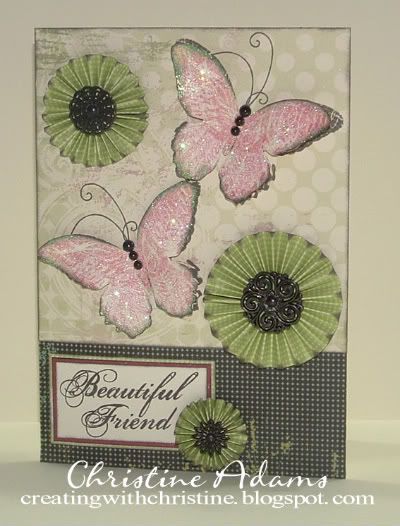 I created a shadow of the butterfly underneath so that I wouldn't have to cut out the antenna. For the shadow I used black ink. For the cut-out butterfly, I used second-generation Vineyard Berry ink. Then of course I had to add a little
Prisma glitter
to glam it up a bit. I also added a few black pearls from our
Opaques Licorice collection
. I used black StazOn ink on our pewter
Filigree Charms
brads for the flower centers.
Since these were my first fan-fold flowers, I scored them at 1/4". Next time I think I'll try 1/8". I also used the full 12" length. I want to play around with various lengths too! Off to play...
Remember you can get this Wings paper and the Find Your Style stamp set for a DEAL this month! Contact me for more information!