At our church we meet during the week in small groups to study Sunday's sermon and dig deeper, but it is also a great venue to get to know each other better and be involved in each other's lives. Well in an effort to branch out and get to know even more people on an intimate level, we decided to crash another small group and serve them DINNER! It was so cool. I look forward to the next crazy thing we do!
Anyway, the purpose of this post is to share my recipe. We chose an Italian theme - it was delicious! My part was to provide dessert. So I made this Italian Cream Cake - from Southern Living. It was very rich and moist - and GOOD.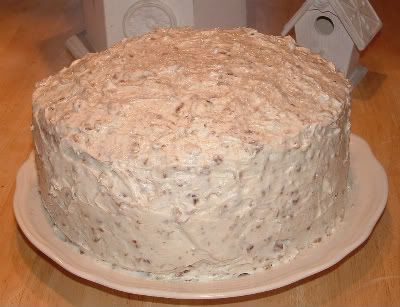 Here is the very last slice! Good to the last crumb!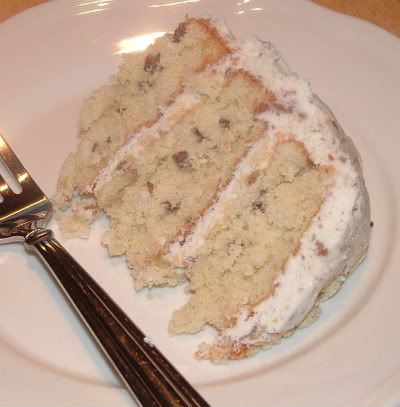 Italian Cream Cake
Prep: 24 min.
Cook: 25 min.
A light brushing of rum on these coconutty cake layers seals in moistness. It's a very rick cake, ideal for a special occasion.

1 cup butter, softened
2 cups sugar
5 large eggs, separated
2 1/2 cups all-purpose flour
1 teaspoon baking soda
1 cup buttermilk
2/3 cup finely chopped pecans
1 (3 1/2 oz.) can flaked coconut
1 teaspoon vanilla extract
1/2 teaspoon cream of tartar
3 tablespoons light rum

* Grease three 9-inch round cakepans; line with wax paper. Grease and flour wax paper. Set aside.
* Beat butter at meduim speed with an electric mixer until creamy; gradually add sugar, beating well. Add egg yolks, one at a time, beating after each addition.
* Combine flour and soda; add to butter mixture alternately with buttermilk, beginning and ending with flour mixture. Mix at low speed after each addition until blended. Stir in pecans, coconut, and vanilla.
* Beat egg whites at high speed until foamy. Add cream of tartar; beat until stiff peaks form. Gently fold egg whites into batter. Pour batter into prepared pans.
* Bake at 350 for 25 minutes or until a wooden pick inserted in center comes out clean. Cool in pans on wire racks 10 minutes; remove from pans, and peel off wax paper. Cool layers completely on wire racks.
* Sprinkle each cake layer with 1 tablespoon rum. Let stand 10 minutes. Spread Deluxe Pecan-Cream Cheese Frosting between layers and on top and sides of cake. Store in refrigerator.

Deluxe Pecan-Cream Cheese Frosting
This frosting is slightly softer than the traditionl recipe. Extra cream cheese and butter enrich the frosting and give it a little more volume.

1 (8 oz.) package cream cheese, softened
1 (3 oz.) package cream cheese, softened
3/4 cup butter, softened
1 (16 oz.) package powdered sugar, sifted
1 1/2 cups chopped pecans
1 1/2 teaspoons vanilla extract

Beat first 3 ingredients at medium speed with an electric mixer until smooth. Gradually add powdered sugar, beating at low speed until light and fluffy. Stir in chopped pecans and vanilla. Yield: 3 1/2 cups.