Oh so much to share with you! I made this card simply because I was dying to use our new Spring Up stamp set to try these way-cool flowers! Aren't they beautiful? And SUPER easy too!!
Once I made the card, I began to think the little tea box project I've been dreaming of would go perfectly with this! So - voila! The other cool thing about this project is I have combined two very different paper packs! The pink flower paper is from the Sweetheart paper pack and the green paper is from our Miracle paper pack. Don't you just LOVE the muted, monochromatic pattern on the back of our papers? I sure do! And that's what I have used here! Looks like they were made for each other - Cotton Candy & Sweet Leaf!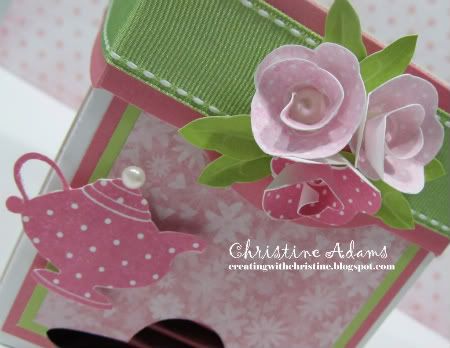 I love using the doilies with these floral projects! I added a pearl to the center of each flower and the top of the tea pot! Check out these stamp sets that I used (you can click on them to see the stamp sets): Spring Up, Tea Time, In the Month of May, and Blessed - the April Stamp of the month - for the sentiment on the inside of the card which says "If I had a flower for every time I thought of you, I could walk in my garden forever. - Alfred Lord Tennyson" Instead of the "Mothers Day" tag it could be birthday, praying for you, thinking of you, friends, ANYTHING! The tea box template came from here.
This is also my creative club project for this month. The kit is only $5 (plus shipping) or FREE with a $25 order! Contact me if you are interested in attending my class or ordering a kit!
Now, here is a quick video to demonstrate how much fun and just how easy these flowers are to make!