Unfortunately, I have many friends, family, team members, and customers that have lost a loved one recently, or are sitting beside them as they struggle through their last days. Some have had major surgeries that require months of treatment with hope for recovery, while still others have receive the dreaded words, "there is nothing we can do - you have X# of days". Just another reminder that our lives here are so very brief and we should make the most of each day and every opportunity while we can. My heart and prayers are with each and every one of you...
Since I needed so many of these cards, I decided to make it our club project! I turned once again to my faithful Wishes Card book and used the ever versatile Greetings Card Workshop. I also used the soft, soothing colors found in the You & Me Kit - Smoothie, Chocolate, Bamboo, and Colonial White. I also found even more inspiration in Lisa's beautiful card
here
. Don't the flowers remind you of impatients? The sentiments on all of these cards came from the
Card Chatter - Sympathy stamp set
. Another "must-have" in my book! Here is what I came up with: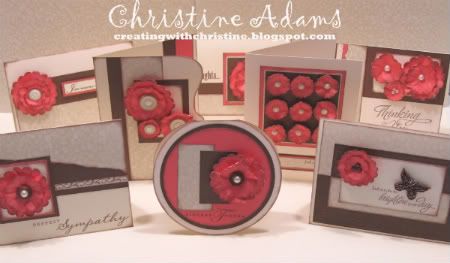 The flowers are 1", 1 1/2", and 2" scallops from my cricut. Simply moisten them with a little spritz of water and crumple them to resemble real blossoms. Once dry, you can ink the edges with smoothie ink, chocolate ink, or not at all. All combinations are beautiful!
I used the flourish from the Miracle WOTG kit stamp set on this card along with one of our small wooden buttons (sanded the varnish off the edges and inked with chocolate) garnished with a large pearl: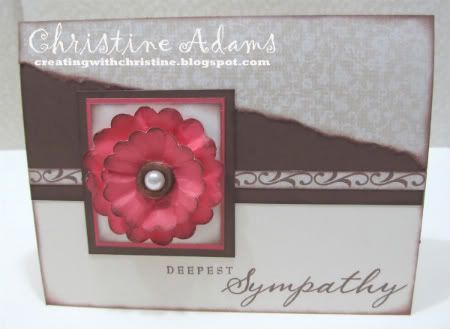 On this one I used Antique Copper brads in the center of the flower, one of the metal butterflies from our Bliss L2 accessories plus I used the Bliss WOTG stamp set (words) for some tone on tone stamping on the chocolate cardstock: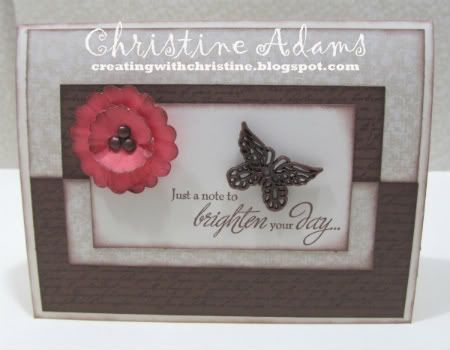 On this card I added some Colonial White buttons, edged in chocolate ink, and filled the centers with Liquid Glass and Prisma Glitter: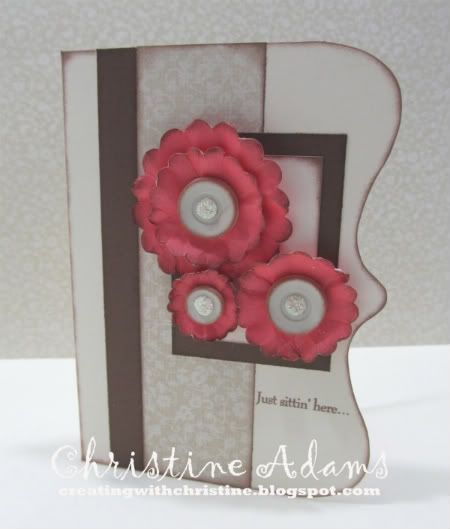 On this card, I added a chocolate flower button adorned with bitty pearls:
On this flower I added a Colonial White Designer Brad - sanded the edges and inked with chocolate ink: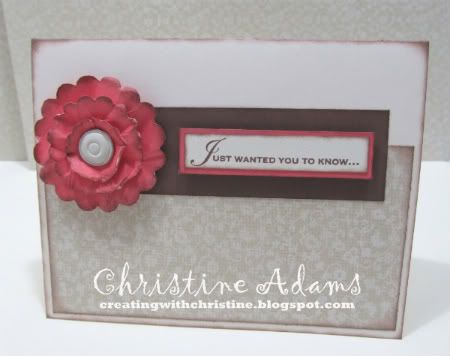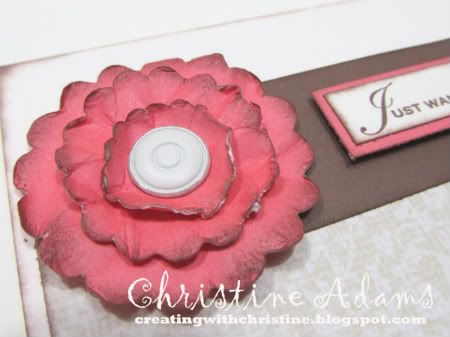 On this card, I thought it was appropriate to have a bunch of little flowers to go along with a multitude of little prayers! I added Colonial White brads to the centers topped off with Liquid Glass and Prisma Glitter. YIKES!!! Just realized I didn't ink my card base!!!: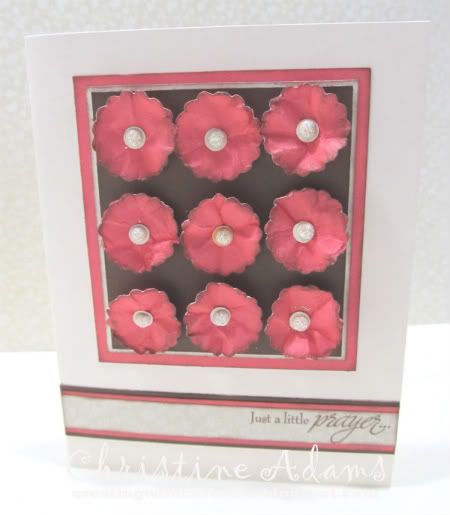 These flowers are adorned with pearls: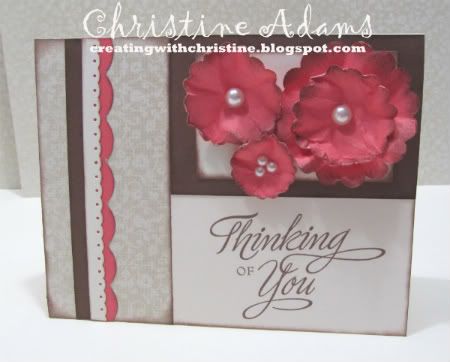 This one I turned into a circle card just for fun! I used another wooden button/pearl combination: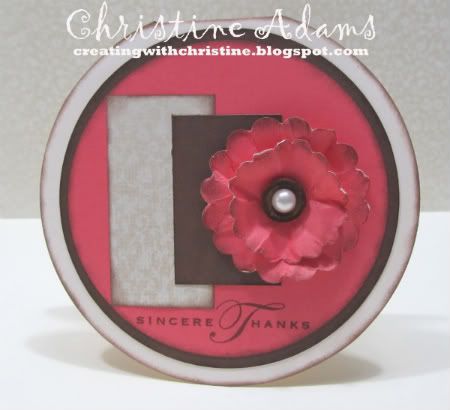 If you attend the Creative Club at my home, you can choose the sentiments you want - including birthday, thank you, and other sentiments! If you choose to order a kit by mail, I will default to these sentiments unless you tell me otherwise. You can request other sentiments or I can leave them blank for you to fill in with your own. Your kit will of course be pre-cut, include all accessories and have step-by-step instructions. (If you choose to ink distress, you will need to have a chocolate ink pad and finger daubers or a sponge.)
Creative Club Nights
Friday, May 20th at 6:30pm
Monday, May 23 at 6:30pm
These 8 cards/envelopes can be yours for only $12
OR $7 with an order of $25 or more.
(PS - don't forget you can also get the gorgeous You & Me kit for only $15 with a $50 order!)