I absolutely LOVE my club girls!! And I look forward with great anticipation to each club night! It's like a girl's night out filled with friendship and laughter and love - and of course - creative fun!!
To celebrate the release of our new Autumn/Winter Idea Book, I wanted to give each of my club members a little gift! So I used our brand new Cricut cartridge - OF COURSE - to hold one of my favorite new accessories - Rhinestone Designer Brads!!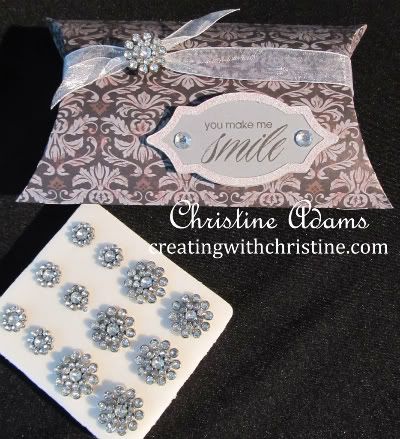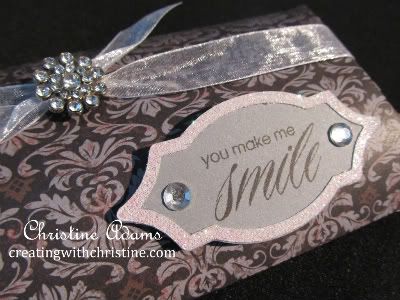 I cut an 8" pillow box on our new Mischief B&T paper that folds together to perfectly hold our new Rhinestone Bling! For the sentiment, I used another cricut shape (in grey wool) and used the coordinating layer for the frame (in grey flannel), added some prisma glitter to the frame and then attached the sentiment to the pillow box with some 3-D foam tape. I added some ribbon with a large Rhinestone brad wrapped around the knot - so that the ribbon slides off to open the box, then slides back one to use again!
Love my club girls! Love our new cricut cartridge! Love how easy it is to create projects you can be proud to give! LOVE MY JOB!!!