I'm so excited to be able to introduce a project for this month's creative club that features many new products! With school getting ready to start, I thought you might have a need for a teacher gift or a student gift or an aide, or pricipal - this would even work for co-workers in your office! Absolutely anyone could benefit from this and it can easily be customized for your specific recipient!
It starts with a notebook that is covered front & back as well as inside front & back covers. I used our brand new Typeset papers - aren't they delicious? I also used a star from our new Milepost Shapes - corregated chipboard shapes in a neutral kraft color ready to take on the color or accents of your choice! I also used some of our cool Color Ready Alphabet Cork letters - adhesive backed and ready to take on the color or accents of color of your choice! And OF COURSE, I had to include our new Art Philosophy Cricut cartridge for many of the fun shapes, as well as the Vintage stamp set and the Blue Ribbon stamp set that both coordinate perfectly with the cricut shapes!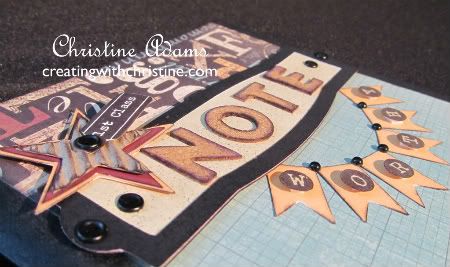 Next is another Cricut project - a doorhanger used as a treat holder! I've incorporated a Starbucks Frap and Little Debbie Nutty Bars - two of my favorite treats!! You can use any drink/treat you want - Little Debbie donut sticks, Skinny Cow Chocolate Wafers, Beef Jerky, Licorice Sticks, Crackers, etc. - YooHoo Chocolate Milk, Water, Tea, Juice, etc.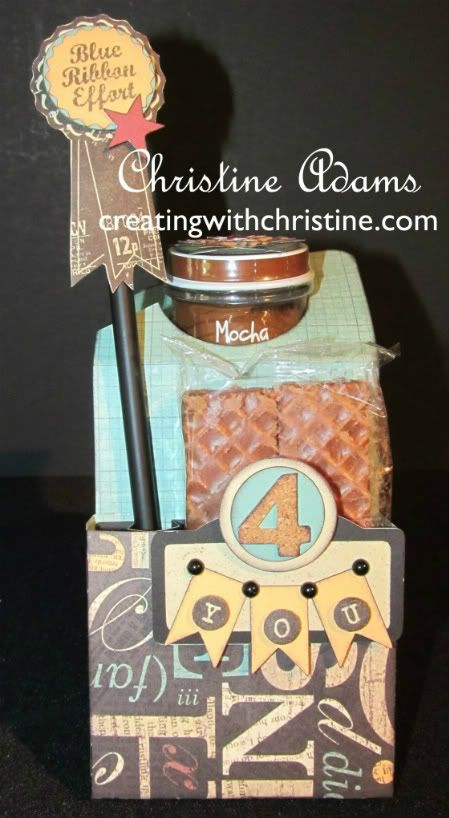 I also included a pencil with a coordinating topper and created a little holder inside to keep it in place. The topper is attached to the eraser with one of our new Pewter Pin Clips, so it can be easily removed, in case of "mistakes".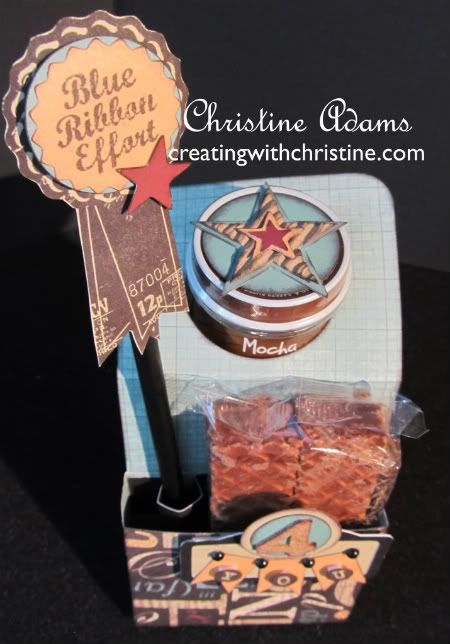 And finally, a 3x3 card to further personalize your gift. Here I've used one of the coordinating stamp sets that come with the Art Philosophy Cricut Collection.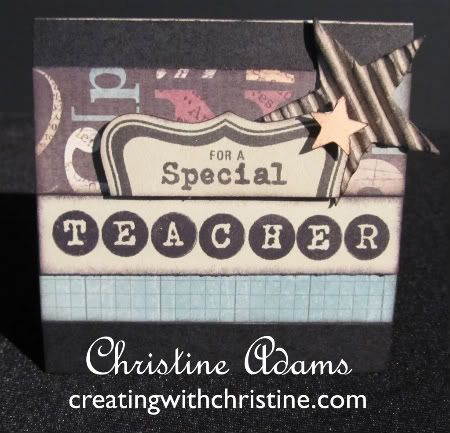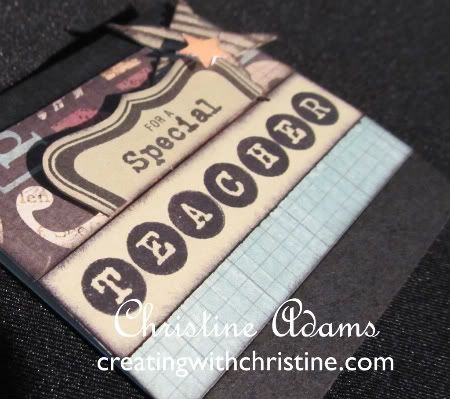 Join me on Monday, August 15th at 6:30pm to create these projects.
Create this project for $10 - or only $5 with a $25 order. (And remember, this month, with a $50 order you can get the stamp of the month for only $5 PLUS the FREE A Type stamp set, plus my discounted kit for only $5. Or with a $75 order, you will qualify to receive everything above PLUS the first ever Double D stamp set - Pair-a-Phrase!)
Can't attend that night? This kit (and the specials above) are available for purchase and will include pre-cut, pre-stamped pieces along with step-by-step instructions. (*Kit does not include food items. Shipping will be extra.)
Contact me to reserve your spot or order your kit today!
RSVP by Friday, August 12th.